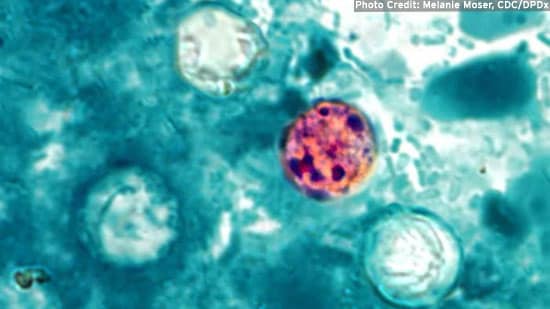 Cyclospora
As part of our company-wide commitment to making your business - and the world - cleaner, safer and healthier, Ecolab will work with you to find solutions that help solve your food safety and contamination issues.
What is Cyclospora?
Cyclospora is a parasite that infects the small intestine, causing cyclosporiasis. This became a nationally notifiable disease in the United States in 1999, and was reported in 37 states in 2008.1 Until 2018, it was thought that Cyclospora was not endemic to the United States, but was most commonly acquired through travel to tropical or subtropical regions and through consumption of contaminated fresh produce imported from these areas2  Although cases can be reported throughout the year, April to August is when the majority are reported, with the height of reports coming in May to July.
Fresh produce, such as raspberries, basil, snow peas and mesclun lettuce have been identified as vehicles of transmission for past cyclosporiasis outbreaks in the United States. In 2004, approximately 96 people became ill after eating pasta salad containing raw snow peas at a residential facility in Pennsylvania.3 The largest recorded outbreak of cyclosporiasis occurred in 1996, when more than 1,400 people became ill in the United States and Canada after consumption of Guatemalan raspberries.4 Most recently, in the summer of 2013, at least 535 cases of cyclosporiasis were reported in a multi-state outbreak. Epidemiological study in two of the eighteen states where victims reside implicated salad mix, but this has not been confirmed elsewhere.  In 2018, several Cyclospora outbreaks linked to fresh produce demonstrated a probable link to romaine lettuce sourced from within the US.  Further updates are available from the CDC6 and FDA7.
WHAT ARE THE SYMPTOMS?
After consumption of Cyclospora, symptoms occur in an average of seven days. A typical cyclosporiasis infection is characterized by watery diarrhea. Other symptoms include loss of appetite, weight loss, cramping/bloating, nausea, body aches, fatigue and, less common, vomiting or low-grade fever.1
Cyclosporiasis infections can be treated with antibiotics. However, infections are usually not life-threatening, and if left untreated, the infection will usually clear up on its own in a few weeks to months.
HOW IS IT TRANSMITTED?
Cyclosporiasis cannot be transmitted from person to person. An infected person sheds non-infective Cyclospora oocysts, which then need up to 14 days in suitable environmental conditions to become infective.5 Only after the oocysts have become infective can they cause illness when consumed. This mechanism could make imported produce an ideal host for Cyclospora oocysts because it generally travels for many days before consumption.  It also suggests that the agricultural practices in the two weeks prior to produce harvest are important to monitor. 
HOW IS IT CONTROLLED?
Cyclospora oocysts are resistant to common disinfectants such as chlorine and iodine, and there are no EPA guidelines for demonstrating product performance against Cyclospora.  The ever-present illness potential emphasizes the need to be aware of the origin of produce as a primary control technique. Making sure produce suppliers follow Good Agriculture Practices, such as proper cleaning and sanitation procedures during growing, harvesting and packing produce, help reduce the likelihood of contamination.
REFERENCES AND FURTHER INFORMATION 
1. Surveillance for laboratory-confirmed sporadic cases of cyclosporiasis - United States, 1997-2008. Hall, Rebecca L, Jones, Jeffery L and Herwaldt, Barbara L. April 8, 2011, Morbidity and Mortality Weekly Report, Vol. 60(2), pp. 1-11.
2. Update on Cyclospora cyetanensis, a food-borne and waterborne parasite. Ortega, Ynes R and Sanchez, Roxana. Jan 2010, Clinical Microbiology Reviews, Vol. 23(1), pp. 218-34.
3. Outbreak of Cyclosporiasis associated with snow peas - Pennsylvania, 2004. September 24, 2004, Morbidity and Mortality Weekly Report, Vol. 53(37), pp. 876-8.
4. An outbreak in 1996 of cyclosporiasis associated with imported raspberries. Herwaldt, Barbara L, Ackers, Marta-Louise and Group, Cyclospora Working. May 1997, The New England Journal of Medicine, Vol. 336(22), pp. 1548-56.
5. Parasites - Cyclosporiasis (Cyclospora Infection). CDC Home. [Online] [Cited: May 4, 2011.] http://www.cdc.gov/parasites/cyclosporiasis/.
6.  Investigation of an Outbreak of Cyclosporiasis in the United States. CDC Home. [Online] [Cited: July 24, 2013.] http://www.cdc.gov/parasites/cyclosporiasis/outbreaks/investigation-2013.html
7.  FDA Investigates Multistate Outbreak of Cyclosporiasis. [Online] [Cited: August 5, 2013.] https://www.fda.gov/downloads/food/recallsoutbreaksemergencies/outbreaks/ucm375868.pdf